I've thumbed through dozens of girlie magazines in the last 30 years. They're all over the place. Circus of Books, Paradise, Barnes and Noble, the Stop n' Shop. They're in my bedroll. Inside my copy of
The Grand Illusion
, no one would ever look there. Cheesecake rags were under the passenger seat of a 1978 black Monte Carlo that my friend Jeff and I used to ride around in trying to scare up Glendale girls on summer break. Switching between Badfinger's
No Dice
and a Devo back n' forth jerk. The latter sounds sexy, sure it does, admit it, and I can't speak for Jeff but I'm sure that one of those nights was filled with The Menstruals. The only band that would let a girl put a panty liner on her
thigh
for the hell of it.
The Menstruals, for the uninitiated, were an all hotshit girl new wave band from The Queen City in the earliest of 1980s. They were so fine that they turned Robert Palmer into a buttery dishrag. You think he got that sexy man guy crap on his own? No, no. The Menstruals taught that act to him. That and how to behave.

The Menstruals recorded the first "A" side only single in pop history, "My Boyfriend Jerks Off." That's hotshit and that's what got Jeff and I to go to as many Menstruals shows as we could. It spoke heavy volumes that you could only wipe away with a gym sock. You could tie that sock around your head, ball an end up, shove it in your mouth, and you still wouldn't be able to contain yourself. The Menstruals were that good. How many times did we get thrown out of Klinkers before we got it right?
Eventually you could pick us out of the crowd. Black suitcoats, black peg legged pants, a Menstruals club only t-shirt which featured a sexy "M" with panties pulled down around the opposing legs of the letter. We each had a number of colorful Canal Jeans t-shirts. Remember that scene in
American Gigolo
when Julian is laying all his clothes out on the bed? Ties, jackets, sox, manpanties, and cummerbunds (always the favorite article) spread out so he could decide just how much he'd pull in a single night. That was Jeff. He had more Menstruals buttons than I did. I had more Costello buttons. Especially the tiny little Elvis head model. I knew that one of The Menstruals was really into Elvis and I knew that if I wore that button just right then maybe I could after party. A guy could really dream in 1982. So much more than now.
The Menstruals only needed an "A" side. A motherfucking "A side." That was it. The other side, the so called "B" side was just black vinyl. Limited numbers, something like ten, had the M with the panties thing etched into them. The cover was simple. A photo of the gorgeous chicks, Kelly with the panty liner in her tights. A deft touch and an ode to Wunderle. Mary smoking. It was when Mary smoked during their sets that The Menstruals took off. It was if her smoke, her smoke rings, the essence and smells of the smoke, would turn the girls on and make them play even better than ever. That's what happened that night in Kansas City, at the Uptown, when Kathleen got busted for soliciting. She couldn't keep the show inside. Had to take it to the streets.
"My Boyfriend Jerks Off" wasn't the only club hit. It's just the one that stuck. The regional sound that The Menstruals had rivaled their partners in Fools Face. The Menstruals told it like it was. I mean, you really can imagine the guy in Fools Face's "To Be Someone" actually having a masturbation issue. "Now I get to hang out with the number one gang." Please. That's 1962 guy code for jerking off. It's from a Dion song. Look it up.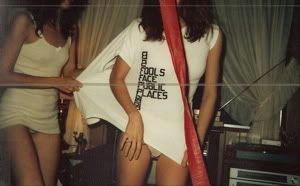 I recently was sent this photo that was supposedly taken during the shooting of the lost Menstruals film. For the last 25 years the rumors surrounding this film were as thick as Nixa kudzu. "Cocksucker Blues" is brought up so many times when referencing the scratchy, wood paneled porno chic of the thing but Larry Clark and Helmut Newton didn't shoot that goddamn movie so that doesn't explain the amazing amazingness of this small yet perfectly breasted outtake that features The Menstruals having a party. Look at the blatant merchandising not only for the single but for another band. A Fools Face t-shirt, long brunette hair, and girl underwear all in front of an open window. This is an after party we weren't invited to but after following Kelly's car after another show at Klinkers we hung out outside some guy's house. I can attest to the authenticity of this picture being from the movie. They played Twister too. In front of the window. It was fucking awesome.
I could've taken a whole magazine of those photos.

"On your knees boys, The Menstruals are in town!"
Damn right, sugar.

Silky Poplin - 2008